We Mark a Special Milestone for Production Operator Kay as she Celebrates 15 Years with Camloc!
Fifteen years is a long time when thinking about employment and it's very rare in the modern day for any employee to remain with a business for such a sustained period of time.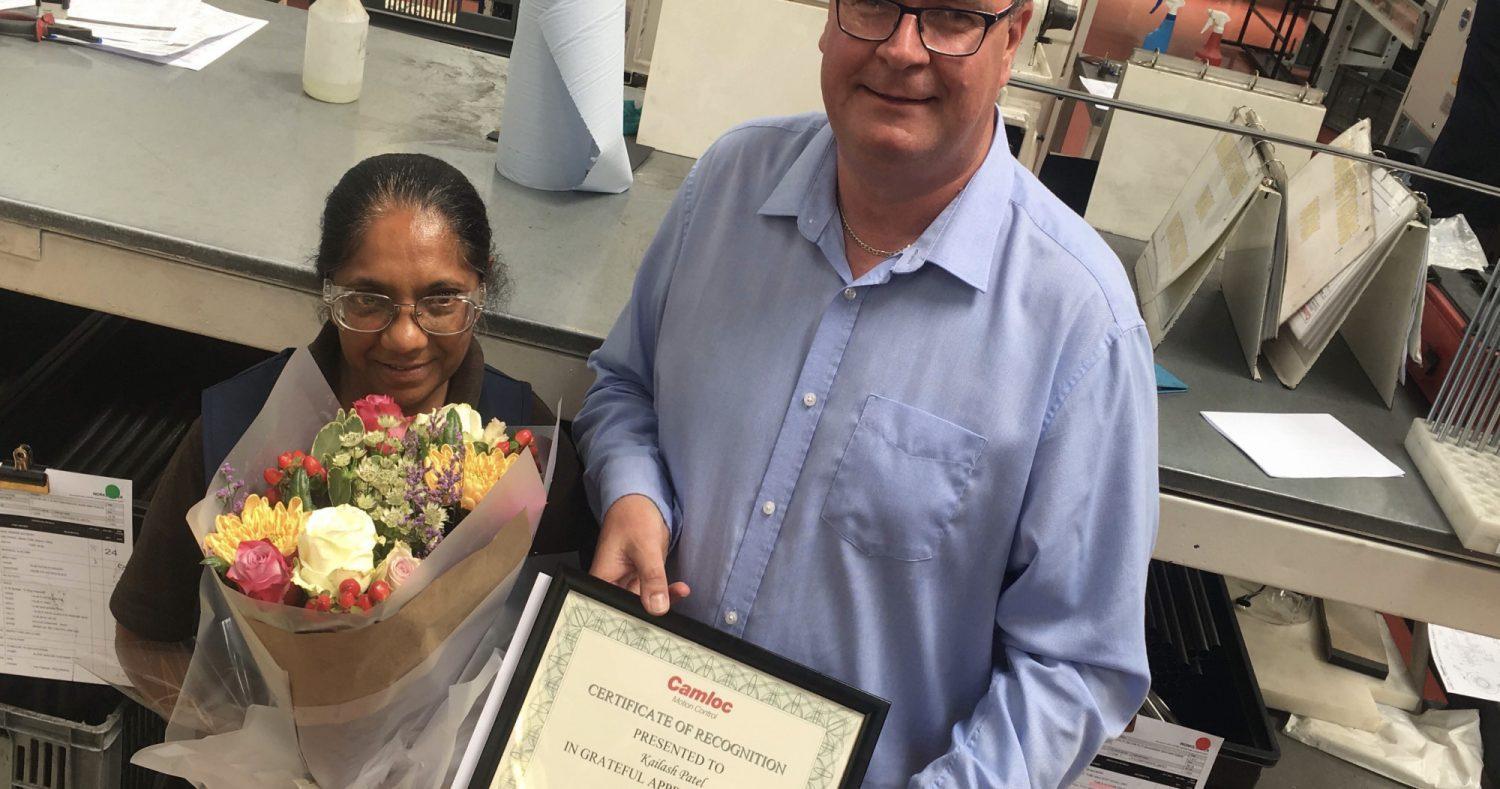 Our Production Operator Kay moved to the UK when she was only eight years old, with little grasp of the English language. After finishing school, she went on to fulfill numerous roles before taking on the role of Production Operator at Camloc. We recently caught up with her to see how things have changed and what her highlights have been during her 15 years with Camloc Motion Control.
What experience did you have prior to joining Camloc?
After leaving school, I opted against going to university or college and decided to get a job in order to provide a steady income for my family. For a while I worked at a shoe manufacturers before becoming a carer in a local care home. I quickly discovered how tough it is mentally to work in that environment and decided that it just wasn't for me. One of the men I cared for had holes in his shoes so I took it upon myself to get in touch with the shoe company and get him a brand new pair. He was very happy and said to me that he'd never owned new shoes before!
I then took time away from work to have my daughter. I was a stay-at-home mum for a couple of years before signing up with a recruitment agency to get back into employment.
What first attracted you to Camloc?
Whilst with the agency, most of the companies I worked for offered me a job but because I didn't have a car, they weren't easy to access. Camloc was much easier to commute to and the hours worked around my children. I joined Camloc as a temp and stayed for three years. After a brief spell away, I was then offered a full-time job at Camloc within the build team. I prefer being involved in the build of the gas springs, so the job specification definitely attracted me back.
What has changed since joining Camloc 15 years ago?
A lot has changed. New machinery, changes to the factory and we now design and manufacture a wider range of gas springs. I was saying just the other day that often we won't work on one type of gas spring for a while and then a week later, we receive a large order for them – typical!
When I first joined the company, we regularly received substantial orders for pistons to go into game machines but now, the work is far more varied. I prefer the variety though because it means that every day is different.
What do you enjoy most about working at Camloc?
I love that we all get on and the team feels like an extended family – it makes life a lot easier. Everyone help out with jobs such as getting the oil filled properly and because of the brilliant team ethic, it ensures that orders are fulfilled on time.
One example of this is when the line one machine broke down. We struggled without it but we still managed to fulfill orders on time by pulling together as a team. You don't see that togetherness at a lot of other companies.
Why have you stayed with Camloc for 15 years?
I love what I do and the people I work with! All of this has resulted in me becoming very settled and comfortable here. If I didn't feel comfortable then I wouldn't be here 15 years later.
I said to my daughter recently "I've done 15 years and look I have a certificate". Her response was "well done mum, you can do another 15 years now!" (laughs).
On behalf of everyone at Camloc Motion Control, we would like to extend a sincere thank you to Kay for her 15 years of service. We look forward to having her with us for another 15 years!