Our Process
We want to help our customers get the best from their motion control solutions, and so we've compiled this handy guide so you know exactly what to expect when you work with us. 
Click on the image below to enlarge it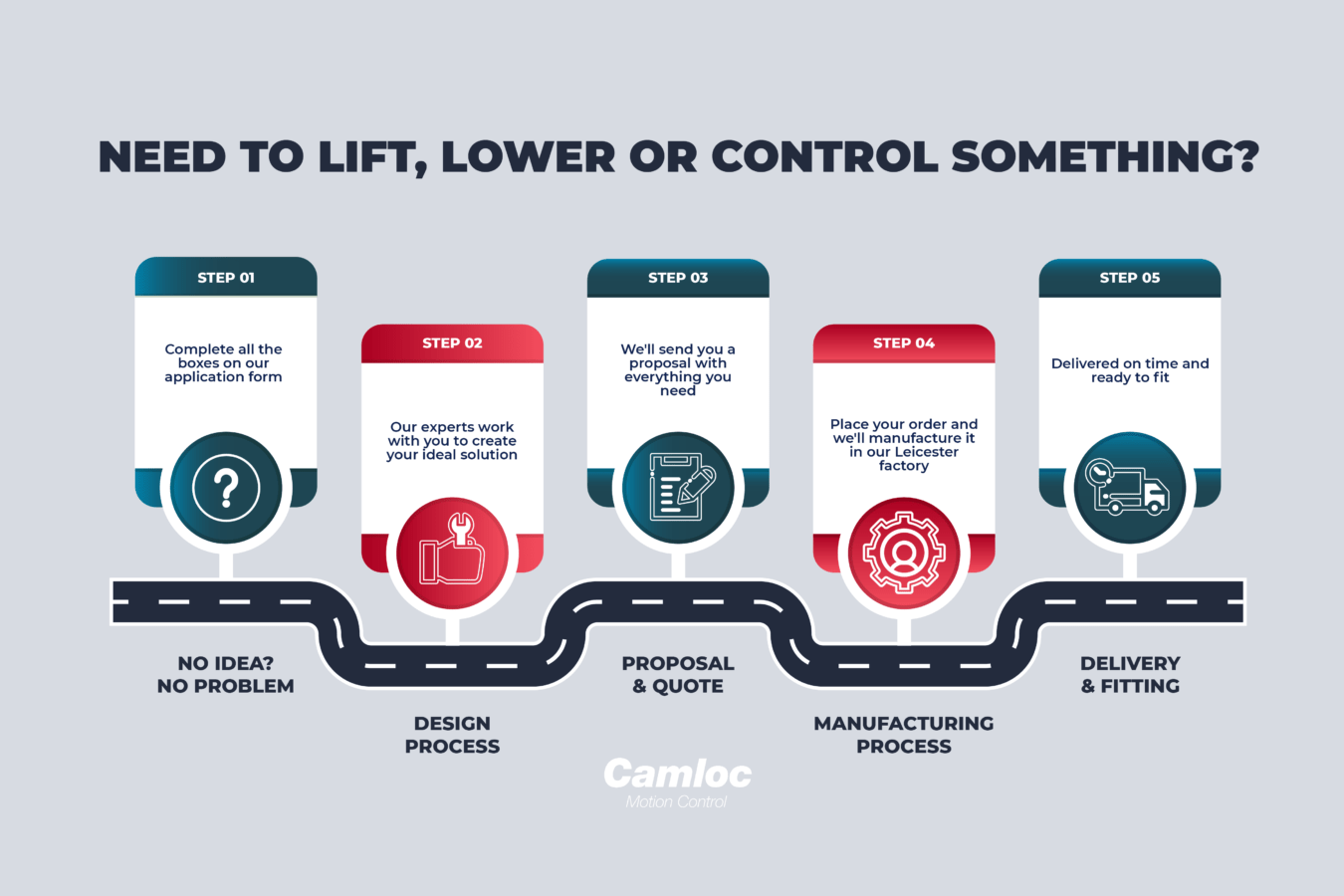 Need to lift, lower or control something? 
Step 1:

Complete all the boxes on the

application form

 

Step 2:

Our experts work with you to create your ideal solution

Step 3:

We'll send you a proposal with everything you need

 

Step 4:

Place your order and we'll manufacture it in our Leicester factory

 

Step 5:

Delivered on time and ready to fit

 
Working with us means that you get a bespoke solution, and we take the time to understand exactly what you're looking for and if we think another option might work better, we'll let you know. 
Without asking the right questions, you're never going to get the results you need, and this is especially true when it comes to manufacturing and engineering. While motion control solutions may form a small part of a majority of projects, they make a massive difference to the flexibility, manoeuvrability and overall excellence of a project. 
With this in mind, we'll be upfront and say that we will ask a lot of questions when we first start working together. This is because we believe that the more information we can obtain at the very beginning of the project, before designing takes place, the more time, resources and money we can save you throughout. 
What we do 
After an initial consultation to discuss your requirements, timeframes and expectations, we then begin the design process. This is where we will be asking for the details and information that we need from you before making our plan to deliver what we say we're going to deliver. 
How to place and order  
Once the engineers have designed your custom-made solution, we will send you a proposal to review and agree, we'll get started on the manufacturing process. This is where the fun really begins! 
We pride ourselves on our customer service so if there is anything you need from us in the meantime or if you have any questions, just get in touch with us. 
At Camloc, we're here with you every step of the way. 
How Camloc do it  
All of our products are made from beginning to end in the heart of the UK at our Leicester factory which means we have total control over the process from start to finish. 
Working this way means that we're connected to each and every stage of the design and manufacturing process which is how we guarantee our outstanding quality. Our engineers have a testing facility on the factory floor to ensure that all of the key elements of your brief are met and that the end result surpasses your expectations. 
Delivery  
The manufacturing industry is fiercely competitive, and one of the things that sets us apart from the competition is that we proudly boast a 99.4% on-time delivery rate for your gas spring solutions and other Camloc Motion Control products.  
Consistently delivering quality gas spring and damper solutions on-time and around the globe is what we do best. 
Follow up  
We've found that a number of our motion control solutions last decades, which is pretty similar to our customer relationships, just one of the reasons that you should become part of the Camloc community. Customer care is one of the reasons our clients return to us again and again. We're as invested in your projects as you are and want to ensure that our solution has exceeded the brief and is performing as it should. 
We'll be in touch with you once our products have left the factory, and are always happy to take questions from our clients. 
We're with you every step of the way from the design to delivery process but it doesn't end there, we will ensure that you gas struts are fitted, maintained and still performing at their best, long after the delivery date. 
Get in touch with us today to get your project moving.