Gas Springs – the Secret Support Keeping the NHS Moving
When visiting a hospital ward, doctors surgery, dentists or physiotherapy studio, it's easy to focus on the big items in the room and the basic functions they contribute to a patient's procedure or recovery.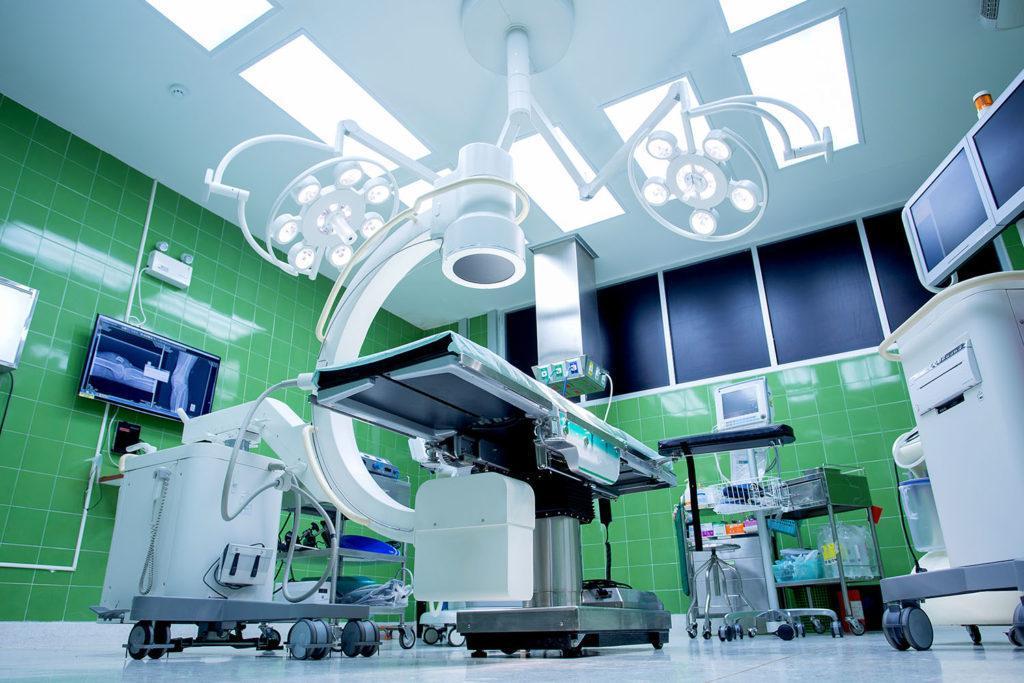 However, there's one vital component within all of these that people commonly overlook, unless you're us, and that is the role that gas springs play in keeping everything moving like clockwork.
Gas springs, or gas struts depending on the terminology you use, allow for the smooth movement of applications in a range of scenarios and environments. We've been dedicated to manufacturing such products for over 30 years, with our wide range of gas powered springs supporting sectors including the military, speciality vehicles, signage, rail and aerospace.
With the current Covid-19 pandemic changing the way we view the world, it's time the humble gas spring received some recognition for the role it plays in ensuring that doctors, nurses and medical professionals can successfully treat patients during an unprecedented time of crisis.
Hospital Wards
When you enter a hospital ward, there's a range of applications that require smooth motion control in order to operate effectively. The most obvious is a patient's bed. When a doctor or patient operates the bed controls to adjust a back or leg rest, side rails or the bed lift/tilt function, these movements are often assisted by a gas spring, damper, cam-stay or hydraulic lift.
The same is applicable when operating overbed tables, with the height adjustment and tabletop angles all controlled by either locking or multi-positional gas springs.
Other applications reliant on gas springs and dampers include drugs cabinets and mobile workstations to control lid opening and closing, height adjustment and the position of screens/tablets, as well as wheelchairs and patient handling chairs which require the seat to be tilted to provide optimum patient comfort and support.
Operating Theatres
Granted when you step into an operating theatre, the last thing on your mind would be gas springs. But without the power of motion control, surgeons and their support staff would struggle to complete successful procedures.
The operating room table uses dampers to control the back rest, along with multi-positional stays for the leg rests and hydraulic height adjustment systems to tilt and lift the bed itself. Without these mechanisms, procedures would be complicated to perform and add unnecessary risk for the patient.
As with hospital wards, workstations use gas springs to control height adjustment and the position of displays. There's also a need to control the movement of lids, hatches and panels on the range of medical storage units around the theatre – with gas springs providing assisted opening and hold functionality for easy access.
The final application within this environment that relies heavily on gas springs is the arms that control lighting and monitor screens. Typical examples include the lighting arms that hang over patients and staff around the operating table, as well as x-ray/live camera TV screens mounted to an arm for easy viewing throughout a procedure. Without the multi-positional gas springs within these applications, the life of a medical professional would become very complicated and again risk patient safety during procedures.
General Healthcare
When we say general healthcare, this can include a doctors or dentists surgery, a physiotherapy room or a range of other applications needed within hospital environments. All of these have their own tools that require careful movement to improve efficiency and make them as safe as possible to handle for both the medical professional and the patient.
Similar to hospital beds, treatment beds and couches typically found in a physiotherapy studio require both back and leg rests to be moved slowly and precisely to make treatment easier for the patient. At the same time, the bed needs to be tilted and lifted in the same way, to provide simple manoeuvrability into the right position for both the patient and carer.
Dentists and opticians, like doctors and surgeons, always have a range of applications at their disposal. The main ones are lighting arms above a dentist's chair or a wall-mounted arm for opticians with eye-testing tools at one end. Gas springs control the movement of these arms to minimise the effort needed to operate them and ensure they can be ideally positioned for both patient and user. A dentist's chair is another common place to mount a gas spring – controlling both the back and leg rests as well as the height and tilt of the chair.
Some healthcare scenarios require more bespoke gas springs in order to overcome specific challenges.
One such example of this is MRI scanner beds. In this environment, the springs must be non-magnetic in order to avoid interfering with the machine itself while it's in operation. Such solutions require a more tailored approach, with designers and engineers working together to create a product that meets the needs of the specific application.
There's also a number of alternative applications that require gas springs to ensure patient comfort, especially in hospitals. Namely, multi-positional arms and mounts for TV screens or dampers to control the movement of bin lids. More functional than critical, but all part of providing patients with a comfortable experience within a hospital environment should they need to stay there for an extended period of time.
Throughout the coronavirus pandemic, our team is working closely with the NHS and healthcare providers to ensure that our products are readily available and supply chains remain open. We're committed to playing our part in supporting this sector in its hour of need, with all of the above applications crucial to supporting staff in successfully fighting the virus.
If you manufacture medical sector applications and wish to speak to a member of our team about how our gas springs can support your product range, please visit our contact us page to get in touch. For more bespoke product solutions, visit our Help Centre where you can email our designers and engineers with information about your specific application.