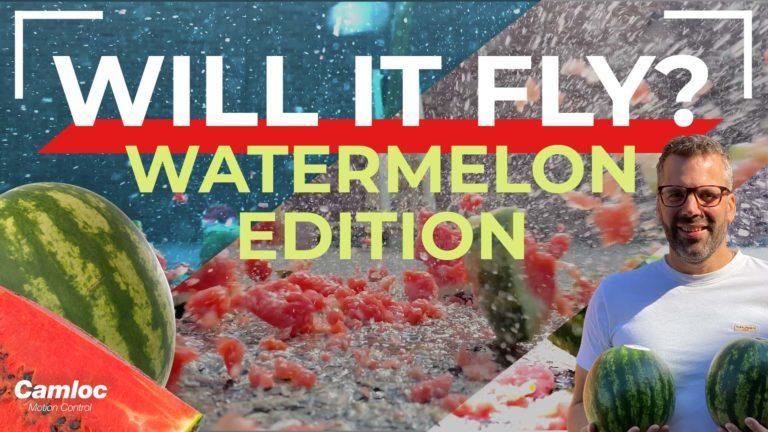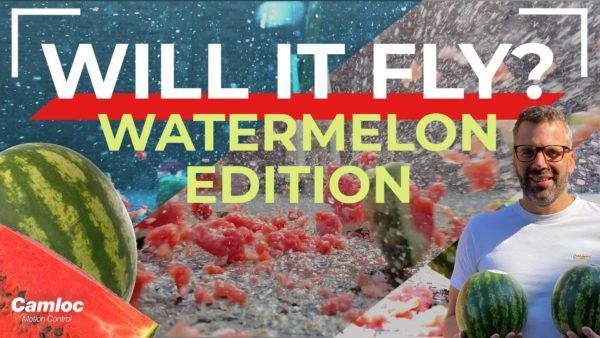 After a long two years of the daily grind, we wanted a fun challenge to sink our teeth into and the idea of flinging a watermelon over our UK factory seemed like just the thing. Could we use one of our gas springs to launch a watermelon over a 6-meter-high wall, over the factory roof, and into the Camloc car park? As you can imagine, we just had to put this to the test.
We had our goal, to clearly launch a watermelon over a massive wall. We rolled up our sleeves and set to work building the ultimate watermelon flinging machine.  
Now, we just had to work out how to make this happen. 
"This felt like a great way to have some fun, do some team building, but at the same time put some theory into practice and make lots of mess in the process. We want our team to have fun, but it's also a learning experience and gave the team the chance to test our products and increase their understanding of what can be done by modifying the different characteristics of the springs," Matt Warne, Joint Managing Director and Co-owner at Camloc Motion Control Limited. 
The Design 
It began the way all our projects do, by getting the team together and drawing up designs which would allow us to achieve height, speed and the correct range of motion to make this goal a reality. Our team of engineers really enjoy a challenge they can sink their teeth into. When there's a problem to solve, they're the team we turn to. 
For us, this project was about trying something new and doing some out-of-the-box thinking. Our team regularly creates solutions for everything from operating tables to the protective gear on tanks, but the key to be being able to do the job well is creative thinking, which is where projects like this come in. 
The First Attempt 
Our first attempt wasn't a complete failure but it was pretty close. We lacked height, speed and power, but that didn't stop us. The melon simply crashed and splattered on the ground. We're not easily deterred though, so after a quick coffee break our team went back to the drawing board and made further developments. 
For the rest of the morning, we got closer and closer to reaching our goal as we realised we needed to make a considerable change to the design. After time for a rethink and a redesign and working on customer projects rather than our own we came back to the watermelon launcher. 
We had been using our locking gas struts as these seemed perfect as they would enable us to safely lock the watermelon in position before launch, but analysing the videos and discussing between the team we realised we needed to get a higher velocity across the piston. We changed the spring in our specially designed catapult to a standard fixed force compression spring with a custom designed piston which we knew would give us a better chance and we let that watermelon go! 
Results! 
Back out to the car park we went and, lo and behold, the melon hit the sky in no time, easily clearing the wall. By this point, the entire manufacturing team in the factory was cheering. There really isn't anything quite like the success of a project like that, especially when there is watermelon splattered everywhere! 
"Regularly we come up with wacky ideas across the desks of how we could incorporate a gas spring into every day/or not so everyday applications. When we were given the green light to put the idea of flinging a watermelon across the building our eyes lit up and the ideas came flooding in. There were a lot of considerations to take when designing the catapult from finding the correct angle of release to finding the optimum release system. The project gave us the opportunity to see first-hand on an application how much of an effect changing the piston orifice, tweaking oil levels, and changing the type of spring we use would have in real-world conditions. After a number of attempts, seeing the watermelon fly over the roof of the building was exhilarating and had us all jumping for joy with grins from ear to ear," Gagan Chatha, Design and Application Engineer at Camloc Motion Control Limited 
To watch the whole process in action, check the video here
What To Do Now 
Feeling inspired? Get in touch with us today.
We can help you with all your manufacturing and engineering needs, if you can't see what you're looking for on our website, don't worry, we will still be able to do it. Just give us a call or send us an email with your brief or project requirements, and we'll see what we can do. 
Make sure you're following us on Facebook, Twitter, LinkedIn and YouTube so that you never miss an update from us. 
Who We Are 
Our team uses our collective expertise to provide motion control solutions to clients across a range of industries. We pride ourselves on forming connections that stand the test of time that allow us to find the perfect solution for every project.