Airport Support Vehicles Gas Struts & Dampers
There is far more to the aerospace industry than just aircraft. In fact, there are many airport support vehicles that help keep this vital sector moving, and working safely and efficiently. Gas struts and dampers are at the heart of these support vehicles, helping passengers get from A to B by creating safer environments and supporting the aerospace sector to do what it does best.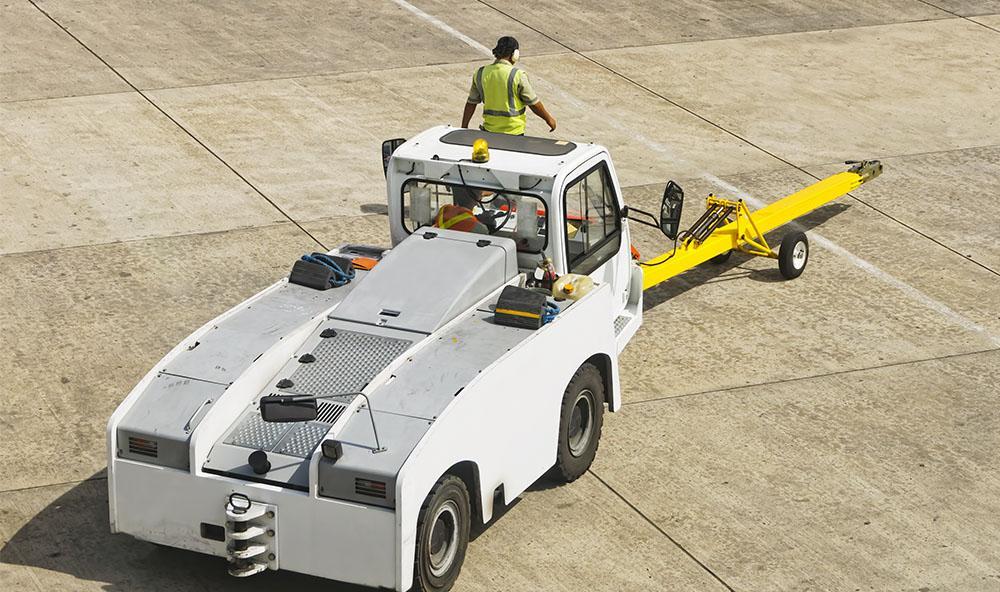 Due to the variety of airport support vehicles, they often come with a number of requirements for motion control solutions. With each vehicle serving a different function, the gas struts and dampers selected vary considerably. Our gas springs are available in an extensive range of sizes, with a wide range of end connectors and brackets. They are entirely self-contained, maintenance-free, hydro-pneumatic ram, and possess the characteristics of a compression spring – and are ideally suited to vehicles of any size. 
Airplane tug 
Airplane tugs are used to prepare an aircraft for take-off, or transport a craft for regular maintenance and repair. With the specific and essential requirements of this support vehicle comes the need for bespoke motion control solutions that can allow the vehicle to complete its essential role. Our team of engineers are more than happy to speak to you about the specifics of your brief, and will ensure the motion control solution we provide meets your exact needs. 
Runway sweeper 
In the aerospace sector, even the smallest amount of litter or waste on the runway can affect pilots and passengers alike, which is why these areas need to be kept clear and in optimum condition. Runway sweepers help to keep the aerospace sector moving by clearing foreign object debris from runways, taxiways, ramps aprons, helipads, parking areas and other surfaces in or near a flight area. Our gas struts and dampers provide the strength and range of motion needed to keep these support vehicles moving. 
Supply trucks 
In a fast-paced industry, there isn't time to wait around for vital supplies, so supply trucks are an integral part of keeping aeroplanes running safely and on time. Due to the variety of sizes in which supply trucks are available, you will require motion control solutions that are tailored to the vehicle, and that's where we can help. No matter the size of the vehicle, we will have gas struts and dampers that will work for your specific project. 
Emergency vehicles 
Designed with speed and safety in mind, the emergency vehicles that support the aerospace sector require specialised motion control solutions that take the specific requirements of this vehicle type into consideration. From the storage of medical supplies to parts of the engine, our motion control solutions can be relied upon to keep these vehicles moving. 
At Camloc Motion Control, we offer free technical advice throughout the entire course of a project and provide motion control solutions that are tailor-made to customer-specific requirements. Manufacturing from our base in the UK, our highly-competitive lead times, and 99% on-time delivery, help set us aside from the competition. For more information and to learn more, get in touch with us today.